| | |
| --- | --- |
| | in this issue |
Pat,
I have decided to have a rest from awarding prizes during sessions throughout summer and will be placing more emphasis on the Jan 6 / Feb 3 and March 3 - 3k Time Trials:
PCRG members will be invited to submit teams made up of 3 people.
There will be three categories offering prizes (provided by sponsors).
Team that improved the most - aggregate time compared to previous 3k times.
Team that improved by 30sec on previous aggregate 3k time.
Team that equaled previous aggregate 3k time.
Sponsorship opportunities exist for the PCRG 2009 Summer Team Challenge. Sponsorship proposal can be found here.
This Thursday, November 27 the Australian Lung Foundation are holding their inaugural corporate fun run. Details here.
The Australian Lung Foundation raises funds and awareness to help empower people, touched by lung disease to live their lives to the fullest. Most people are unaware that lung cancer doesn't just effect smokers, it can touch the life of anyone. In fact, more women die of lung cancer than any other cancer (ref- The Australian Lung Foundation).
Vounteers are required to help stage the run. Please contact Margaret Goody on 0418 794 479 or email margaret@lungnet.com.au
2008's first Xmas Joke:
"In honour of this holy season" Saint Peter said, "You must each possess something that symbolizes Christmas to get into heaven." The first man fumbled through his pockets and pulled out a lighter. He flicked it on. "It represents a candle", he said. "You may pass through the pearly gates" Saint Peter said.
The second man reached into his pocket and pulled out a set of keys. He shook them and said, "They're bells." Saint Peter said "You may pass through the pearly gates".
The third man started searching desperately through his pockets and finally pulled out a pair of women's panties. St. Peter looked at the man with a raised eyebrow and asked, "And just what do those symbolize?"
The man replied, "These are Carols."
Photos/Video from this mornings PCRG session can be viewed here and catch you for more chat and motivation later in the week.
Cheers
Pat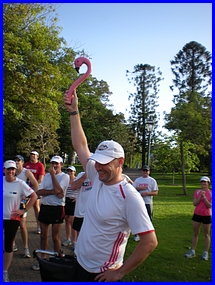 Long live the Pink Flamingo & Happy Birthday Clay!
PCRG Feedback
Possibly you attended a PCRG session and felt the session could have been conducted differently, or possibly you enjoyed your PCRG experience.
Your valuable (anonymous) feedback will ensure future PCRG sessions are enjoyable and rewarding and I welcome any feedback you may wish to offer.

intraining
Make sure you visit intraining @ Park Rd Milton for all your running needs.
Thank you intraining for being a PCRG sponsor.

The Ship Inn
Thank you ''The Ship Inn'' for being a PCRG sponsor.

Jodie Willett Massage - 0410 199710
Performance Podiatry
90 Vulture Street
West End
Contact Jodie - 0410 199710

Your next run is only as good as your last recovery!
If you fail to follow a sensible diet your body will not gain full benefit from all of those enjoyable and challenging runs and you won't recover as well as you possibly could.
Kerith Duncanson is an accredited dietician as well as a former International class runner. An online dietary assessment by Kerith may assist you to achieve your goal.
Kerith offers 20% off her advertised fees to any runners involved with me through online coaching or any runner who is a regular member of PCRG.

Quick Links...