| | |
| --- | --- |
| | in this issue |
Pat,
Tuesdays 3k Time Trial: Photos/Video/Results and report can be found here and congratulations everyone who took part.
I know that the 3k Time Trial can be a challenge that becomes tenfold at this time of the year when you are training with few goals in mind. It can still be extremely rewarding though. Claire Bellenger thinks so:
I can't believe how nervous I get for a TT.
I am not likely to be doing a PB
I have no pressure from any coaches
It is not my livelihood at stake
Yet every TT Tuesday I approach with some excitement and plenty of trepidation. The butterflies go full blown into earthquakes in my belly and until we start the run I can barely absorb the conversations going on around me.
But you know what, it is worth it. I love that feeling of achieving something before work whilst all my colleagues are sleeping. I love that glow of self satisfaction that doing your best effort provides. And I just love getting faster and faster.
Thanks to my comrades in pain (Matt and Scotty) who whilst still recovering from their Melbourne Marathon efforts decided to run with me to push me faster. I wouldn't have achieved it without their support.
And thanks to YOU Pat for all your encouragement and support.
Mark White also provided this feedback following his great pb.
PCRG music - "Your Selection" - Possibly you would like to share your taste in music with your fellow PCRG members and if so whack your best pumped up music onto an ipod and bring it along to PCRG.

Your songs will need to cover the core of the session (Core Songs) - lasting between 15-20 minutes. Warm up and Warm down songs can also be supplied.

NB: Core Songs will need to be similar to what has been played - Dance/Techno - fast beat with few lyrics. Over to you!

I had a great paddle in the river this morning - it was glassy and smooth. Glenda was out running with her mates (solo) and I passed Sara and Trudy just as they had completed their run and I could tell they had both enjoyed the hour or so they had just spent on the City paths. It's a privilege to live in our great City!
Attending PCRG in the morning and/or on Friday will allow you to have one up on your work colleagues before your get your teeth into a solid/productive days work.
Cheers
Pat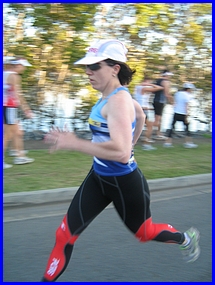 Claire - So fast her fingers can't even keep up!
intraining
Make sure you visit intraining @ Park Rd Milton for all your running needs.
Thank you intraining for being a PCRG sponsor.

The Ship Inn
Thank you ''The Ship Inn'' for being a PCRG sponsor.

Your next run is only as good as your last recovery!
If you fail to follow a sensible diet your body will not gain full benefit from all of those enjoyable and challenging runs and you won't recover as well as you possibly could.
Kerith Duncanson is an accredited dietician as well as a former International class runner. An online dietary assessment by Kerith may assist you to achieve your goal.
Kerith offers 20% off her advertised fees to any runners involved with me through online coaching or any runner who is a regular member of PCRG.

Quick Links...