| | |
| --- | --- |
| | in this issue |
Pat,
News Flash: Helicopter crash near Broome this morning (miraculously nobody was hurt) Photo here.

To date PCRG has raised close on $100,000 for charity and it's now time to select our 2010 charity.
You're therefore invited to nominate a charity of your choice which in turn PCRG "may" raise funds for during our 2010 Gold Coast campaign.
It's possible that a number of charities will be put forward and if this does occur I'll put together a short list and invite PCRG members to vote via an anonymous online form.
It would be great if you could help out with the fundraising structure/organize collection of funds should your charity be chosen.
Please forward your submission to me via email along with any wording you feel may assist with your charity being chosen.
Speaking of fund raising, in 2008 we raised over $40,000 for Oliver Collins and I'm pleased to report that Ollie is as vibrant as ever. Next month, Ollies Mum (Julie) will be involved in a team endurance trek to raise funds for the Fred Hollows Foundation. Julie's team must walk as a group, 100kms in under 36 hours from Palm Beach to Coogee (Sydney). Each woman must finish for the team time to count.
So you missed PCRG this am and feeling a tad guilty. No problemo - catch you in the morning.
Cheers
Pat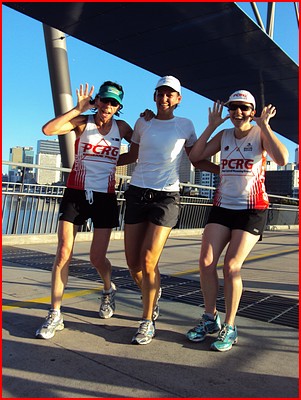 Different!
Gold Coast Airport Marathon/Half & 10k < 19 weeks to go!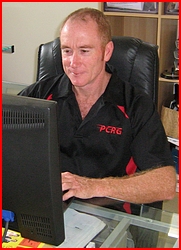 Special Offer: Sign up NOW for online coaching and my 16 week fee ($200) will apply.
I'll set you a program based on your current level of fitness and you'll have the ability to converse with me via email as often as you wish.
Additional motivation and a sense of direction are two of the common remarks I receive from my online clients.
By all means give me a call if you would like to discover more about how I can assist you - 0403 176672

FIT 4 TRAVEL

For all of your general travel requirements, as well as specialist sports tours & events, Fit 4 Travel is unique in the marketplace.
Our current selection destinations and specifically designed travel packages offer our clients some of the worlds most sensational sporting & fitness events. We are dedicated to providing truly memorable travel experiences for the athletes as well as the entire family.

Australian Outback Marathon - July 31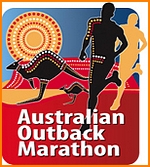 A Marathon with a difference. A Marathon which takes in Australia's outback beauty.

Intraining - PCRG Sponsor
Make sure you visit intraining @ Park Rd Milton for all your running needs.
Thank you intraining for being a PCRG sponsor!

PCRG
PCRG is one of Australia's most supportive community running groups.
Please join us if you're ever visiting Brisbane.
If you live in Brisbane - what's stopping you?

Mizuno - PCRG sponsor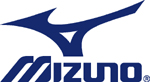 Intraining stocks a full range of Mizuno shoes and apparel.
Thank you Mizuno for being a PCRG sponsor!

Quick Links...