| | |
| --- | --- |
| | in this issue |
Pat,
Well it was a good 10 years since I was injured but my luck finally ran out. I've torn two calf's (opposite legs) over a 6 month period and was off running for 6+ weeks each time. Both pretty much came out of the blue and it's possible that you'll now see me decked out in long compression socks forever and a day. I've never taken running for granted hence I didn't need this wake up call however it's always good to be reminded of what you already know.
Anyway whilst injured I trialled an underwater treadmill and found that I could run on this treadmill with no pain. If interstate you could contact the Brisbane distributor to see if there is one in your area - Tania Brannan 07 3156 5050 Here's the aquatread site.
On Sunday, 13 October, South Bank, Brisbane will come alive to the River Run 100 - an exciting innovation in middle distance and ultra running for runners of all levels. Sanctioned by Athletics Australian and the Australian Ultra Runners Association the event was created by Denny Neave, with support from Craig Mottram Australia's greatest ever distance runner, to raise funds for his sister Gold Coast mum and cancer battler Elisha Neave. Details here.
I had a great time calling finishers across the line in last weekends Blackmores Sydney Marathon and will also be on deck at the Melbourne Marathon. All the best if you're in your final prep for Melbourne.
Possibly you're keen to set sail for Gold Coast 2014. If so I have an online coaching Special Offer. Sign UP "NOW" and start training "NOW" (40 weeks to go!) and 30 week fee will apply. Details here. I can also help you prepare for any other event you've locked in.
Cheers
Pat
Gold Coast 2014 "Special Offer"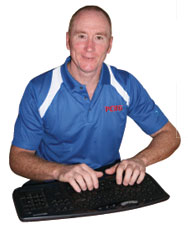 Sign UP "NOW" and start training "NOW" (< 40 weeks to go!) - 30 week fee will apply.
"Having someone believe in you can help make the unbelievable happen".

PCRG
PCRG is one of Australia's most supportive community running groups.
Please join us if you're ever visiting Brisbane.
If you live in Brisbane - what's stopping you?

Like PCRG on Facebook
Keep up to date re what's happening @ PCRG.

Quick Links...