| | |
| --- | --- |
| | in this issue |
Pat,
I was impressed by the strong showing this am. 95 "tough" PCRG members attended.
Video
Results
Bruce Fordyce is a distance running legend. You can hear Bruce talk @ South Bank ("The Shore") on Thursday March 14 6pm to 8.30pm.
The guy can run a bit:
9 times Comrades Marathon winner
Comrades course record holder for 27 years
Current World 50mile record holder
Former World 100mile record holder
I'll be rocking along. Tickets are $50 and include finger food, limited drinks. Contact Bruce Hargreaves to secure your ticket: digger@ozemail.com.au
Re "The Shore". You may know this restaurant as "Decks". It's the large joint down the arbour with the Crepe place next door - was also called "Captain Snapper" back in the day. John from The Ship Inn has recently taken over this restaurant. The food is superb - give "The Shore" a burl.
The Twilight Half Marathon & 10k will take place on Sunday evening March 24. It's an event with a difference and there'll be a strong PCRG showing. You can enter here.
PCRG "Corefit" is no longer taking place as you know it. Sal has secured a job elsewhere. Samina Diwan (PCRG member) is keen to be your instructor and to keep this rolling along. Cost will be $10 given this will not fall under the PCRG umbrella. Please contact Samina if you're keen to take part in Corefit tomorrow am - or weeks following: diwansamina@hotmail.com
Last year we raised funds for Luke Farrelly. Ann O'Brien (Luke's Mother) has asked me to share this with you:
Hi Pat and members of PCRG Our son, Luke was the beneficiary of the funds raised at the auction last year before the marathon. We were very fortunate to be on the receiving end of such a generous donation. I thought it was time to let you all know what we have purchased for Luke that makes his and our life a little easier.
We purchased a regency chair that is on wheels and can recline flat so that Luke can rest and sleep in the living area of the house, rather than the bedroom. We also bought a pressure mattress which means we don't have to turn him as much through the night. For him it is a more comfortable sleep and for us a less disturbed sleep. We are currently waiting for his new wheel chair and used some of the money raised to pay for the modifications needed on the chair and finally tomorrow we pick up a body suit that he will wear which we hope will assist with slowing the progression of the scoliosis of his spine.
As you can see the money has been well spent and we are very grateful for your generosity. Thank you for making a difference to Luke's life and ours.
With kindest regards,
Ann, Daniel, Luke, Isaac and Nathan
Catch you later in the week.
Pat


Our pleasure Ann
Online Coaching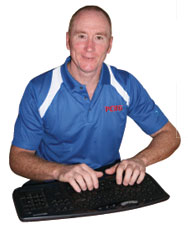 Gold Coast 2013 Special Offer: Sign Up NOW (< 20 weeks to go) and my 16 week fee will apply.
Possibly you can't run at the Coast and have locked in an event elsewhere. If so, I can help!
"Having someone believe in you can help make the unbelievable happen".

PCRG
PCRG is one of Australia's most supportive community running groups.
Please join us if you're ever visiting Brisbane.
If you live in Brisbane - what's stopping you?

Thank you "Auscript" for supporting PCRG

Every year, Auscript records over 100,000 hours of digital audio and delivers nearly one million pages of transcript.
With the highest published quality ratings in the country (98.5% raw accuracy), Auscript is the market leader in mission-critical recording and transcription services for justice, business, government and law enforcement clients. We are 100% Australian owned and operated and all Auscript transcripts are hand-produced in Australia.

Like PCRG on Facebook
Keep up to date re what's happening @ PCRG.

Quick Links...