| | |
| --- | --- |
| | in this issue |
Pat,
Non PCRG members are welcome to order a singlet (postage and handling add $8)

Here's the procedure:
ORDER CLOSES TODAY (via email)
Payment to be made by Friday March 22
Singlet to be collected @ PCRG from Tuesday April 23
Womens Sizes: XS/S/M/L
Mens Sizes: S/M/L/XL/XXL
$50
EFT is preferred method of payment
Westpac
Patrick Carroll
BSB: 034037
A/C: 193331
NB: Use surname as reference and please email pat@patcarroll.com.au to advise funds are floating in cyber space.
Payment can also be made @ PCRG
Cheers
Pat
Twilight Half Marathon & 10k "This Sunday evening"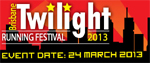 The sun setting over the Brisbane River, thousands of runners and walkers enjoying a March evening... pounding the pavement, putting their bodies to the test. Grimaces, smiles and a few frowns are some of the expressions temporarily occupying the faces of participants...finally as the sun sets, expressions change as men, women and children of all ages beam coming across the finishing line.

Online Coaching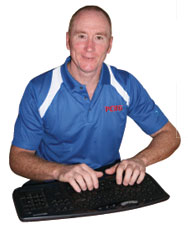 Gold Coast 2013 Special Offer: Sign Up NOW (< 16 weeks to go) and my 12 week fee will apply.
Possibly you can't run at the Coast and have locked in an event elsewhere. If so, I can help!
"Having someone believe in you can help make the unbelievable happen".

Noosa Half Marathon & 10k

Accomplish your 2013 fitness goals with Noosa Ultimate Sports Fest! From a flat and scenic half marathon & 10k to a 85km bike ride and a plethora of swim distances, your fitness goal can be accomplished here! Enter now SWIM NOOSA, CYCLE NOOSA or RUN NOOSA on 27-28 April 2013!

PCRG
PCRG is one of Australia's most supportive community running groups.
Please join us if you're ever visiting Brisbane.
If you live in Brisbane - what's stopping you?

Thank you "Auscript" for supporting PCRG

Every year, Auscript records over 100,000 hours of digital audio and delivers nearly one million pages of transcript.
With the highest published quality ratings in the country (98.5% raw accuracy), Auscript is the market leader in mission-critical recording and transcription services for justice, business, government and law enforcement clients. We are 100% Australian owned and operated and all Auscript transcripts are hand-produced in Australia.

Like PCRG on Facebook
Keep up to date re what's happening @ PCRG.

Quick Links...