Pat,
PCRG's annual Xmas Run/Session will take place tomorrow morning. Feel free to come dressed in xmas attire - no pressure though - whatever suits you. The core of the session will take place in the Botanical Gardens.
Your kids/family are welcome and it would be great if the kids could bring along a water pistol to help cool us down.
The session will finish @ the South Bank pool. (still starting @ The Ship Inn)
PCRG will take place this Thursday/Friday.
PCRG over the Xmas and New Year week will take place on:
Friday Dec 28 & Friday Jan 4
Catch you in the am - it will be FUN!
Cheers
Pat


Merry Christmas!
Online Coaching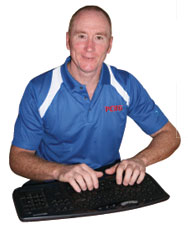 Gold Coast 2013 Special Offer: Sign Up NOW (<30 weeks to go) and my 24 week fee will apply.
"Having someone believe in you can help make the unbelievable happen."

PCRG
PCRG is one of Australia's most supportive community running groups.
Please join us if you're ever visiting Brisbane.
If you live in Brisbane - what's stopping you?

Like PCRG on Facebook
Keep up to date re what's happening @ PCRG.

Quick Links...